EU / Public Funding
B2EU Consulting is offering a customised service to our clients when deciding what European Funding tool is the best to use. We always start with an assessment and a workshop with our clients. The next step is to develop a strategy on how to position our clients towards the specific EU Fund.
We are also there to follow our clients all the way with coaching and training, proposal and bid development and with looking for partners and experts. B2EU Consulting is there to assist clients to close the full project circle (from early positioning to signing their contract).
European Structural and Investment Funds for 2014-2020 are concentrated on 11 thematic objectives:
Research and innovation (7 billion €)
Information and communication technologies (2 billion €)
SMEs competitiveness (63.4 billion €)
Low carbon economy. (45 billion €)
These first objectives are the main priorities for the European Regional Development fund (ERDF). The seven remaining objectives, mainly supported by European Social Fund (ESF) and Cohesion Fund (CF) are:
Climate change and risk prevention (29.1 billion €)
Environment and resource efficiency (60.5 billion €)
Transport and energy networks (58.5 billion €)
Employment and labour market (40.7 billion €)
Social inclusion (44.4 billion €)
Education and training (34.5 billion €)
Efficient public administration (5 billion €)
But in order to achieve the objectives of the EU2020 strategy, Cohesion policy also support projects in other fields such as: competition policy, health, culture and tourism.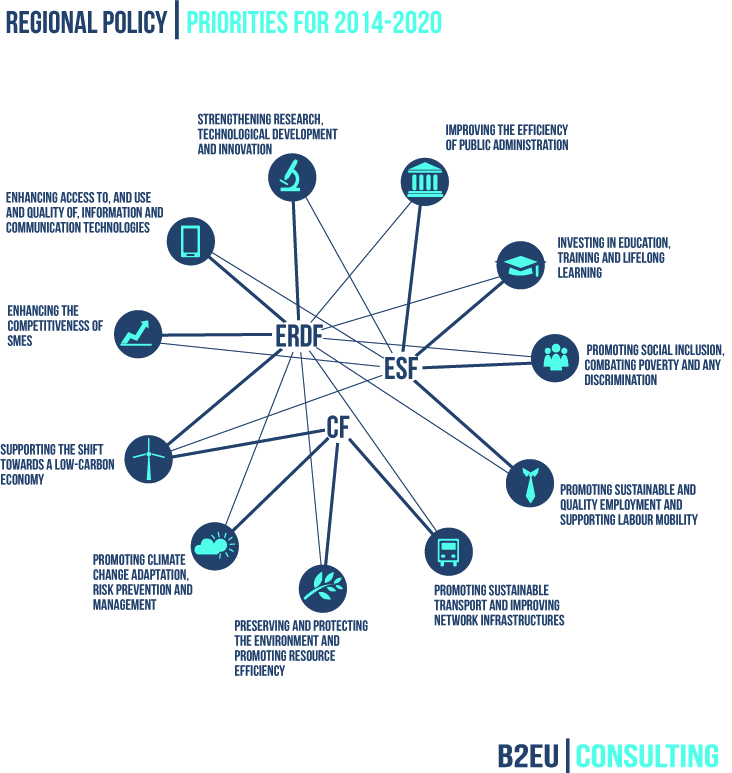 Early positioning is the key to success when going after EU Funding. Our experts are here to help you and your business to achieve better results and improve your sales to the public sector. Most importantly, we will help you to better understand EU Policies and EU Funding, and improve your communication with stakeholders.